About Marrakech
If you're planning your next trip to Marrakech, you will want to find out about the country's currency, the languages spoken in Morocco and the documents needed to travel to Marrakech, among many other useful and frequently asked questions, which are all answered in this article:
Frequent questions
Other questions
Electricity, plugs and sockets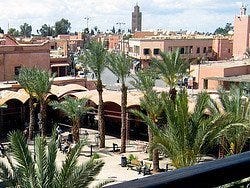 View of Marrakech from a terrace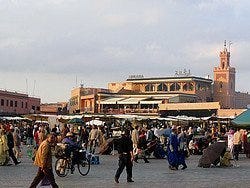 Lively atmosphere in Marrakech
The power sockets used in Morocco are type C and E. These are the same as in most European countries, except for the U.K. The voltage is 220V and the frequency is 50 Hz. If in your country you use another outlet, you will probably need a travel adapter.
Vaccinations
You will not need any vaccines to travel to Morocco.
Current local time
The time zone in Marrakech and the rest of the country is WEST (Western European Summer Time) and WET (Western European Time). It the same time zone as the United Kingdom and Ireland.  
Opening hours
Marrakech has adequate opening hours, opening generally from 9 am until 9 pm. Some shops close on Friday and other close during lunch time, but reopen in the afternoon.
Visitors will find the main shopping area in the Medina, in the Souks.
Helpful telephone numbers
Ambulance: 15.  
Morocco area code: 212
Police: 19.