Marrakech's palmeraie has over 100,000 palm trees. These were planted during the Almoravid dynasty (eleventh and twelfth centuries) in 13,000 hectares.
The city's palm grove is now considered an up-market place to live and to stay in Marrakech. It is the centre of an important urban plan that includes mansions, hotels and golf clubs. For now, the Palm Grove still has a mystical atmosphere and the buildings blend in well with the landscape.
Moreover, the Palm Grove of the city is still a source of wealth for Marrakech. The palm trees are highly productive and are used for wood and dates. Moreover, these trees create a good ecosystem for the fruit trees and the plantations in the area.
Visit the Palmeraie
The most enjoyable and memorable way to get to Marrakech's Palm Grove is to hire a horse-drawn carriage that will take you from Jemaa el-Fnaa to the Hotel Palmeraie Golf Palace, one of the hotels in the heart of the Palmeraie and a good example of how wealthy this area has become in recent years. The drive will take approximately two hours.
If you don't have enough time, we suggest taking a taxi, although it isn't as charming as the horse ride.
What to do in the Palmeraie?
As well as enjoying a nice cup of mint tea in the Palm Grove's five-star hotels, the most popular things to do in this area is to go for a camel ride surrounded by splendid palm trees or take a quad bike tour in the rugged desert.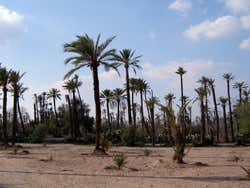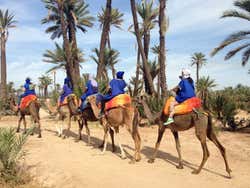 Transport
By taxi or by horse-drawn carriage.