The fastest, and sometimes, the only way to get to Marrakech is by plane from Europe, the U.S., Canada or Australia. If you live in Europe, you can also drive down to Spain and cross to Tangier by boat, but the drive is very long and exhausting. We would only recommend this option if you are scared of flying. 
Traveling from the U.S.
If you're traveling from the United States, the only direct flights from the U.S. to Morocco is with Royal Air Maroc from New York JFC to Casablanca. The flight takes around six hours. The connecting flight from Casablanca to Marrakech is only 50 minutes long. Another interesting option, and often cheaper, is to fly to Madrid with Iberia Airlines and from there directly to Marrakech. This might be a better option if you're flying from other cities in the U.S. since there are more direct flights to Madrid.
Traveling from Canada
Since June 2016, Air Canada rouge offers non-stop flights from Montreal to Casablanca. From other Canadian cities, the cheapest alternatives are to fly to London, Madrid or Paris and then get a direct flight to Marrakech (this can be with a low-cost carrier like Easyjet or Ryanair).
Traveling from Australia
There are no direct flights between Australia and Morocco. The biggest airlines that fly between the two countries with at least one connecting flight are:
Traveling from Europe
If you are flying from the United Kingdom, the most popular airline companies that fly to Marrakech are:
Other airlines that fly to Marrakech from other European cities are:
Marrakech Menara Airport
Find more information about Marrakech's international airport and how to get from the airport to the city center: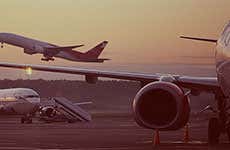 The Marrakech Menara Airport is Morocco's second most important airport. Find out how to get to Marrakech from the Airport and other useful information.
Getting to Marrakech from other cities in Morocco
If you're visiting other cities in Morocco, the easiest and most hassle-free way of getting to Marrakech is by bus (if you have not rented a car).