The Ouzoud Falls are the most magnificent and impressive waterfalls in Morocco and North Africa.
The Ouzoud Waterfalls, 360 ft (110 m) high, are located near the village of Tanaghmeilt in the Atlas Mountains, 93 miles (150 km) northeast of Marrakech.
The walk up to the Ouzoud falls is very pleasant surrounded by thousands of olive trees. At the top, you'll be able to circle the cascades and enjoy this refreshing circuit while trying to detect the monkeys high up in their trees.
On the warmest days, the most daring tourists can have a swim in the valley's pools. The water is very clean but icy cold.
Getting to the Ouzoud Falls
Book a day trip: With Introducing Marrakech, we offer day tours with English-speaking chauffeurs and hotel pickup for just € 35 (

US$

37.40) per person. We also offer very low-priced private tours. Click here to check out one of our day trips.
Rent a car: Driving in Morocco is not easy and some of the highways are not very well kept. If this is the best option for you, we suggest getting a GPS so as not to get lost.
Hiring a taxi for the whole day: You can hire a taxi for the whole day for approximately € 80 (

US$

85.70) – € 100 (

US$

107.10) if you're good at haggling. Keep in mind that most taxi drivers speak very little English, the cars are normally very old, and their driving is often sketchy at best.
Restaurants
There are several restaurants with beautiful views of the waterfalls in Ouzoud. Ignore the guides if they recommend the last two restaurants, which are higher up, are more expensive, and have no views.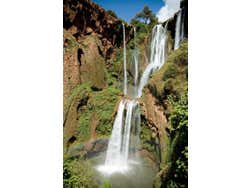 Transport
It takes 2.5 hours by taxi, car rental or by organized tour.