The Bahia Palace (Palais de la Bahia) is one of Marrakech's most imposing buildings. It was constructed at the end of the nineteenth century and was intended to be the most impressive palace of all time.
Commissioned by the Grand Vizier Ba Ahmed ben Moussa, the palace took over ten years to complete and was designed in two stages. At the end of the nineteenth century, Abu Ahmed, a black slave that had risen to power and become vizier had the palace enlarged and had craftsmen from all over the country come to work on the mansion.
The building has eight hectares and 150 rooms that lead to various patios and gardens. The most exciting part of the visit is the harem of Abu Bou Ahmed's four wives and 24 concubines.
Curiously, the palace means "the beautiful". There are several theories on whether the palace was called "bahia" because of its architectural beauty or after the viziar's favorite wife.
Empty rooms
Sadly, all the rooms in the Bahia Palace are empty. When the vizier died, many, including his wives and the sultan took all the artwork and furniture from the palace to decorate their own courts.
Luckily, the ceiling's impressive decoration still remains intact.
Not to be missed!
Although some might be a little disenchanted by the lack of decoration in the palace's rooms, in our opinion the Bahia Palace is one of the best attractions in Marrakech.
Unless you're only in Marrakech for a few days and don't have enough time, we highly recommend spending the 10 dh (US$ 1) entrance fee to see this spectacular dwelling.
More interesting with a guide
Given that the palace is completely empty and there is very little information in English, we recommend booking a guided tour so that you can make the most of your visit.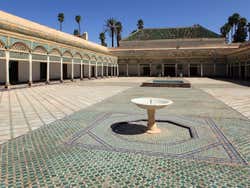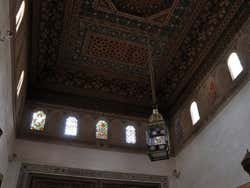 Schedule
Friday: 8 am to 5 pm
Rest of the week: 9 am to 4:30 pm.
Transport
From Jemaa el-Fnaa, take the street Rue Riad Zitoun el Jdid (on the corner of the restaurant Marrakchi). You'll find the palace ahead of you.