El Badi Palace (Palais el-Badi) was built at the end of the sixteenth century by the sultan Ahmed al-Mansour to commemorate the victory of the Battle of the Three Kings against the Portuguese.
Since it is currently a ruined palace, we have to trust the enormous size of the patio and historians to get an idea of how it was when it had just been constructed. It is said that "The Incomparable" (El Badii) was a palace with over 300 rooms decorated in gold, turquoise and crystal.
The building entered a period of decline at the end of the seventeenth century, when the sultan Ismail Ibn Sharif decided to move the capital of Morocco from Marrakech to Meknes. In the process, he stripped the palace completely.
Koutoubia Minbar
Inside El Badi Palace is the Koutoubia Minbar (pulpit). It is made of cedar wood and is incrusted with marquetry and small writing in gold and silver by artisans living in Cordoba during the twelfth century.
If you like ruins
If you enjoyed visiting the Roman Forum in Rome or dream of going to the Acropolis in Athens, you'll enjoy El Badi Palace. Its enormous ruined courtyard will give you an idea of the building's splendour. If you decide to visit El Badi, don't forget to climb the walls to have one of the best views of Marrakech.
To visit the interior and find out a bit more about these impressive ruins, we recommend hiring a local English-speaking guide. If not, it is likely you'll miss out on some of the most important parts of the palace like the dungeons.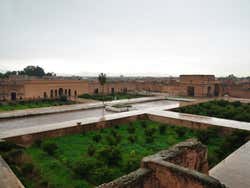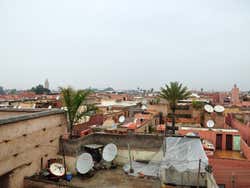 Schedule
Daily from 9 am to 5 pm.
Price
General: 70 dh (US$ 6.90)
Transport
To get from Jemaa el-Fna, you will have to take the street Rue Riad Zitoun el Kdim, on the south end of the square.