The Marrakech Museum is housed in the Dar Menebhi Palace, former residence of Mehdi Mnebhi, who was the Defence Minister of Abdelaziz of Morocco.
The palace dates from the end of the nineteenth century, and a great example of classical Andalusian architecture.  
In 1997 the Omar Benjelloun Foundation bought the building to restore it and open the Marrakech Museum in part of the palace. The same foundation also purchased the Ben Youssef Madrasa and the Almoravid Koubba. Before it was restored, the palace had been used as a residence and during the 1960s it had housed a school for girls.  
One of the building's highlights is the patio (don't miss the magnificent lamp) and the rooms around the traditional courtyard. These rooms house the museum's collection, made up mainly of weapons, pottery and other traditional Moroccan objects.
Visitors can also go to the palace's hammam and visit one of the temporary exhibitions.
A beautiful building
In our opinion the palace is more breath-taking than the museum and is one of the most interesting attractions in Marrakech.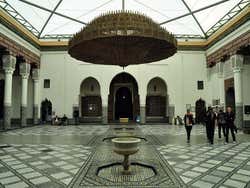 Schedule
Every day from 9 am to 12 pm and 3 pm to 6 pm.
Price
General: 70 dh (US$ 6.80)