The official currency of Morocco is the Moroccan Dirham, designated by Dhs or MAD. The plural form of Dirham is darahim, although in English "dirhams" is widely accepted.
Each dirham is made up of 100 santimat.
Banknotes and coins
Morocco has the following banknotes: 20 dhs, 50 dhs, 100 dhs and 200 dhs. The coins in circulation are: 0.5, 1, 5, 10 and 20 sentimat and 0.50, 1, 2, 5 and 10 dirhams. The coins of 1 santim are no longer minted.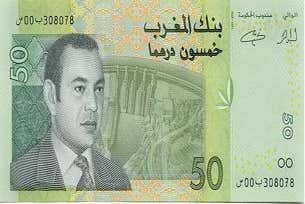 ATMS and banks
Banks and cash machines are found throughout the city, but the easiest places to find them is in the city's main square Jemaa el-Fnaa and in Gueliz, the new part of Marrakech.
How to pay?
The best way to save on commissions is to pay whenever possible with your credit card. If you pay by card the exchange rate is less and, depending on the issuer of the card, the maximum fee is 1%.
Where to exchange currency?
Although you can pay in euros or U.S. dollars in most shops and restaurants, merchants will always try and convince you that the exchange rate euro/dollars to dirhams is favourable to them. Thus, we recommend paying by debit or credit card whenever possible, and if it is not, to pay in dirhams.
The best exchange rates are normally found in the bureaux de change in Jemaa el-Fnaa. The exchange rates are normally higher at the airport and hotels.
Owing to the importance of the tourism industry in Marrakech, some riads only accept euros.
Exchange rate
10 dh (US$ 1)