The Majorelle Garden was designed in 1924 by Jacques Majorelle, French landscape painter that had settled in Marrakech in 1919.
For the first years after its creation, the painter used the garden as an inspiration and in 1947 they were open to the public.
Since 1980 the garden is owned by Yves Saint Laurent.
The garden features the Islamic Art Museum of Marrakech, a small museum that houses various Islamic art work.
Types of plants
The Majorelle Garden is relatively large and includes a vast selection of plants and flowers. These are divided into different areas of palm trees, cacti, garden plants and aquatic plants.
Marrakech's most beautiful gardens
The Majorelle Garden is not as well-known as the Menara Gardens, but for us the first is the most beautiful park in Marrakech. The vibrant colours, the fountains and exotic plants come together to make it one of the most charming and relaxing parks in the city. 
Another advantage is that the trees and vegetation in the Marjorelle Garden give visitors shade during the hot summer days, while the Menara Gardens don't offer as much cover from the sun.  
Official website: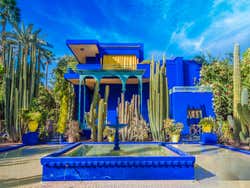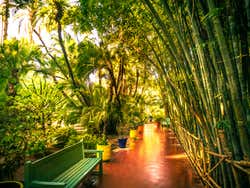 Schedule
From October - April: from 8 am to 5:30 pm
From May - September: from 8 am to 6 pm
Ramadan: from 9 am to 5 pm.
Price
Gardens: 70 dh (US$ 6.90)
Islamic Art Museum: 30 dh (US$ 2.90)
Children (aged less than 12): free entry to both.